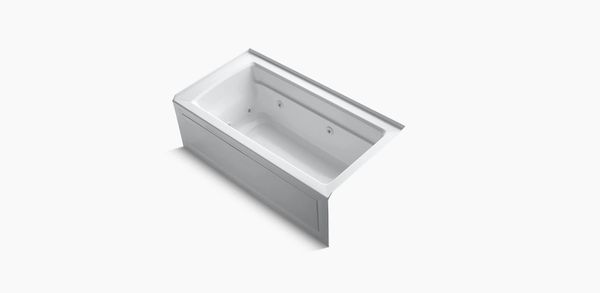 Archer 60" x 32" SKIRT
Archer

®

60" x 32" alcove whirlpool with integral apron, right-hand drain and
Taking its design cues from traditional Craftsman furniture, the Archer line of baths reveals beveled edges and curved bases for a clean, sophisticated style. This bath offers a low step-over height while allowing for deep, comfortable soaking. Whirlpool jets relax away the day's tension as a built-in heater keeps your water at the perfect temperature.
FEATURES
Single-speed whirlpool offers performance and value, with 8 fully adjustable jets.
Hydromassage flow and direction can be controlled at each jet.
Built-in heater.
Comfort Depth

®

design offers a convenient 19-inch step-over height while retaining the same depth as a standard 21-inch bath.
Molded lumbar support offers extra comfort while bathing.
Slotted overflow allows for deep soaking.
Integral apron.
Tile flange helps prevent water from seeping behind wall and simplifies alcove installation.
Right-hand drain.
Coordinates with other products in the Archer collection.
Installation
Three-wall alcove.
Additional Hydrotherapy Options
Soaking Bath - K-1123-RA
Soaking Bath + Bask heated surface - K-1123-RAW
BubbleMassage air bath - K-1122-GRA
BubbleMassage air bath + Bask heated surface - K-1122-GRAW
VibrAcoustic - K-1122-VBRA
VibrAcoustic + Bask heated surface - K-1122-VBRAW
Whirlpool - K-1122-RA
Whirlpool + heater - K-1122-HR
Whirlpool + Bask heated surface - K-1122-RAW
Whirlpool + BubbleMassage air bath - K-1122-XHGRA