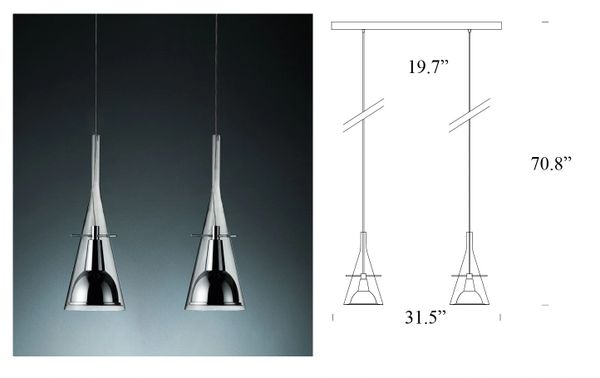 Flûte 2 Suspension
Flûte 2 Suspension
Designed by Franco Raggi in 1999 for FontanaArte
Brand: FontanaArte
Suspension lamp. Transparent borosilicate glass diffuser. Reflector in polished chromed aluminium. Transparent power cable. Glass cone houses a reflector held by three chromed arms. The light reflects around the cone thus giving constant downward emission.
Dimension: 7.1" × 31.5" × 70.8" max
Material: Glass
Bulb: 2×60W (HA/IN) G16½ Candelabra E12
Power Cord: Transparent
Certifications:
Packaging Measurements:
Size (inches): 33.4" x 10.6" x 11"
Weight (pounds): 7.9 lbs